Africa region webinar series
Register here to take part in the webinar
This free webinar is only open to members of World Physiotherapy member organisations in the Africa region. 
Webinar title
Rehabilitation of children with cerebral palsy using the HABIT-ILE approach
Date and time
27 April 2022, 17:00-19:00 UTC 
Speaker 
---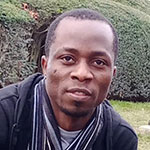 Emmanuel Sogbossi graduated in physical therapy in 2010 from the Ecole Supérieure de Kinésithérapie du Bénin. He was awarded a master's in physical therapy, with a focus on adult neurology, from the Université Catholique de Louvain (UCLouvain) in Belgium, in 2016 and was also awarded a university certificate in intensive neuropediatric rehabilitation. He completed his doctoral thesis in motor sciences at the Motor Skill Learning and Intensive Neurorehabilitation lab (MSL-IN lab) of the Institute of Neurosciences, UCLouvain, in December 2021.
---
Webinar description
Cerebral palsy is the leading cause of motor disability in children. Its management is essentially based on functional rehabilitation.
During recent decades, scientific literature has been interested in re-educative approaches, based on the principles of motor learning. Hand-Arm Bimanual Intensive Therapy Including Lower Extremities (HABIT-ILE) is one approach.
It is delivered in a two-week intensive programme, and stimulates concomitantly and constantly the upper and lower limbs and postural control. Its effectiveness has been shown in children with unilateral and bilateral cerebral palsy. It could be an interesting approach for the functional (motor) rehabilitation of children with cerebral palsy in sub-saharan Africa.