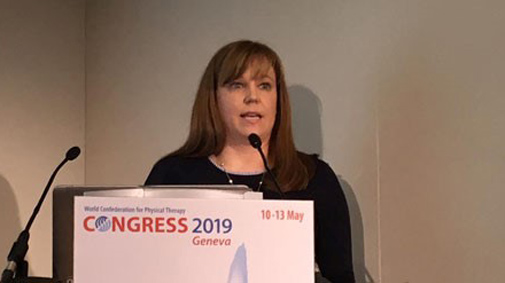 The ability dance has to unveil a passion for movement, joy, socialisation, and boost activity levels was best described by Kara Patterson, from Canada and the chair of the Dance Rehabilitation seminar. Sharing the story of someone who had been asked if dance was exercise, Kara said they had replied: 'Well, I had fun so I don't think so!'
This became the theme of the session as presenters shared information about research studies on different people, using a range of dancing styles in various contexts, and concluded with some key facts about dance when used as rehabilitation.
Studies for dance rehabilitation for people with stroke have found that it improves balance and people's confidence in balance. Music and rhythmic cues are motivating and have the potential to prime the motor system. The synchronisation of movement with other dancers provides psychosocial benefits. Unlike weightlifting, there is meaning behind movement which improves mood and alleviates stress. Overall, peoples' satisfaction with the dance programmes they attended was high with a higher than normal attendance rate.
Dr Keir Philip, from the UK, gave a fascinating insight into his experiences providing dance rehabilitation programmes for people with chronic lung diseases in South Africa, the Kyrgyz Republic, and Uganda. He described the negative holistic effect that symptoms of chronic lung disease have on people, impacting their life both physically and emotionally. They are also socially isolated as symptoms such as coughing have a stigma attached to them and this contributes to low mood and depression. Muscle wasting also occurs, which is why exercise is so important.
Delegates enjoyed watching footage of Dr Philip, who is also a dancer, lead dance classes and observe how they benefitted through joy and laughter despite their disease. In Africa the medical team reported the dance classes helped them assess what people were capable of in terms of their range of movement and to see how they were improving.
After watching the footage of people in the Kyrgyz Republic perform a cultural dance called the 'black horse', everyone in the seminar was then encouraged, much to their delight, to dance along too – led by Dr Philip. It was clear that despite differences in geography, culture, socioeconomics, age and health conditions, dance is an activity that brings people together and there is clear evidence of the health benefits.