There are several categories of award, which are presented every four years when the general meeting and congress take place in the same year. The most recent awards were presented in Geneva, Switzerland, in May 2019.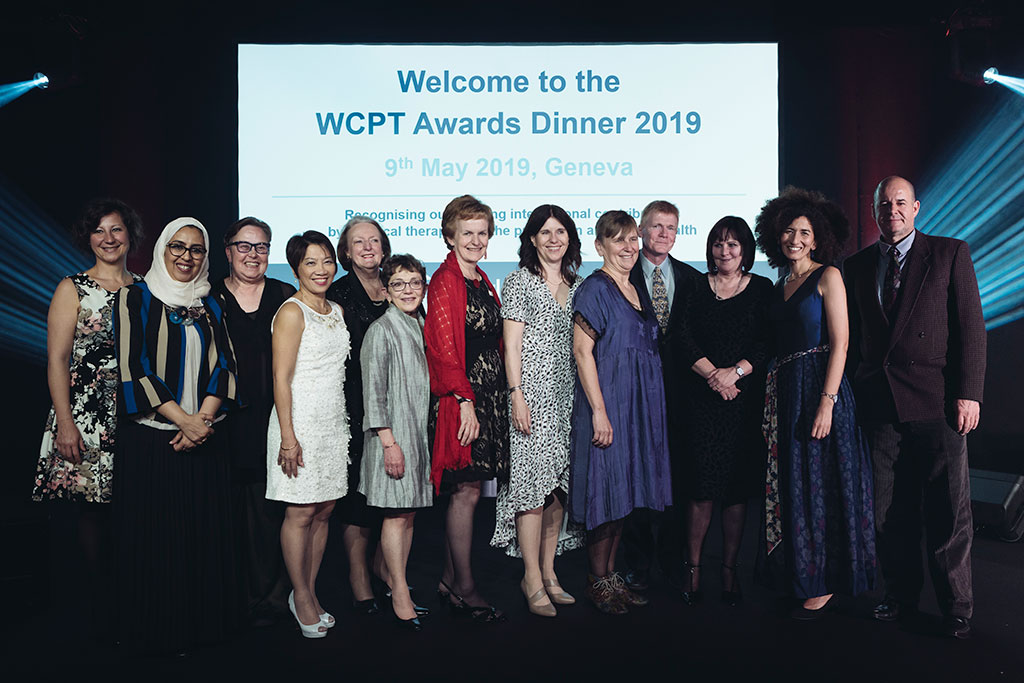 Mildred Elson award
Mildred Elson was the founding president of WCPT (1953-1956) and a driving force in establishing the organisation. She believed strongly in the benefits of physiotherapists working together nationally and globally. At the second general meeting she said that the future depended on every single physiotherapist working with their patients, professional associations, professional colleagues and private individuals towards a common goal – "the recovery of the patient, physically, socially and economically".
This is the highest honour World Physiotherapy can bestow. It is for outstanding leadership contributing significantly to the development of physiotherapy internationally. It was established in 1987, with funds donated by the American Physical Therapy Association, and only one Mildred Elson award is given at the time of each general meeting.
2019: Anne Moseley - clinician, teacher, researcher, and member of Australian Physiotherapy Association
2015: Kari Bø - clinician, researcher, teacher, and member of Norwegian Physiotherapist Association
2011: Stanley Paris - author, clinician, teacher, and member of American Physical Therapy Association
2007: Jules Rothstein - researcher, writer, educator, and member of American Physical Therapy Association
2003: Marilyn Moffat - educator, clinician, author, WCPT president 2007-2015, and member of American Physical Therapy Association
1999: Joan Walker - educator, researcher, and member of Canadian Physiotherapy Association
1995: Geoffrey Maitland - clinician, teacher, author, and member of Australian Physiotherapy Association
1991: Elizabeth McKay - secretary general of WCPT 1970-1986
1987: Mildred Elson - inaugural president, WCPT 1953-1956, and member of American Physical Therapy Association