A former President of the Zambia Society of Physiotherapy and a former Chair of the WCPT Africa Region, Esther has been involved with WCPT and the global physical therapy profession for 15 years. She headed the University of Zambia's Department of Physiotherapy between 2000 and 2013 and, as a bioethicist, served on Zambia's National Health Research Ethics Committee.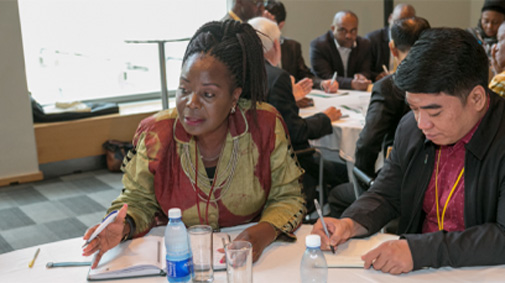 Esther said: 'I believe my experience with WCPT has contributed to my appointment as ambassador. As a member of the WCPT Executive Board, I've been part of a leadership team that has set a robust strategic plan, established strong financial systems and oversight, and laid the foundation for future board members.
'My involvement with WCPT has exposed me to multiple cultures and countries which will help me in my new role. It's a complete shift from my background as a clinician and educator. I'm grateful to the Zambia Society of Physiotherapy, the WCPT Africa Region, and the many member organisations for their confidence in me to serve and represent them, and for giving me the opportunity to interact with them. 
'I'm proud and satisfied with the achievements I've been part of, as a physical therapist and as a leader of the physical therapy profession. I've run my race and it's time to hand on the baton.'
Emma K Stokes, WCPT President, said: 'It's been a great pleasure to work with Esther on the WCPT board for the past four years. It's an honour for her and for the profession that she's been appointed to this prestigious position. I'm immensely proud of Esther and wish her every success in her new role.'