Board and staff members regularly undertake international visits, this often presents an opportunity to participate in targeted advocacy to support activities of the local member organisations.
Members of the World Physiotherapy team were in Benin recently to attend the Africa region general meeting and congress that was attended by over 252 participants from 27 countries.
In attendance were Jonathon Kruger, World Physiotherapy chief executive officer, Jean Damascene, World Physiotherapy executive board member, and Sidy Dieye, World Physiotherapy head of programmes and development, who held a series of high-level meetings with:
Eléonore Yayi Ladekan, minister of higher education and scientific research, to discuss the funding challenges for physiotherapist training in Benin. The World Physiotherapy team spoke about the need to implement career opportunities for physiotherapists with post graduate training to avoid an international brain drain to high paying international jobs.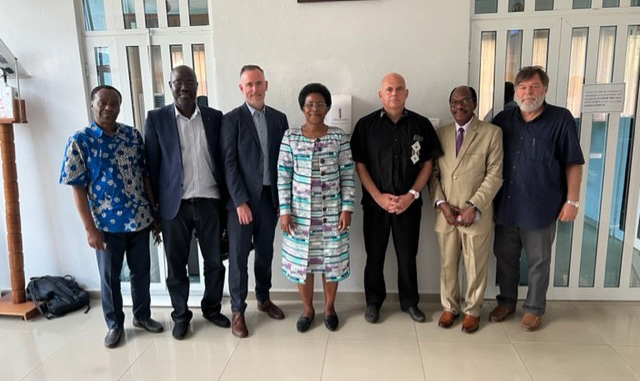 Francis Moïse Dossou, director general of hospital medicine and diagnostics, ministry of health. During the meeting, the importance of physiotherapy as a key component of the rehabilitation workforce in Benin was discussed. The World Physiotherapy team also outlined the significant role of physiotherapy as a cross-cutting discipline within the health sector and advocated for better inclusion of the profession in health policies.
Josue Dejinnin Geoges, dean of the faculty of health sciences at the University of Abomey-Calavi, Benin. The World Physiotherapy team thanked him for his generous support of the Africa region congress and his willingness to further support the development of the entry level programme at Benin physiotherapy school (ESK).
The World Physiotherapy team all participated (as chairs, moderators, presenters) in a number of sessions at the Africa region congress and held meetings with World Physiotherapy member organisations in the region and the World Physiotherapy Future Network.
Visit to Togo
After the visit to Benin, Sidy travelled to Togo with colleagues from the International Committee of the Red Cross (ICRC), with whom World Physiotherapy has an active partnership. They explored opportunities to support the development of the physiotherapy profession in Togo at an academic and professional level.
During the visit to Togo, meetings took place with:
Moustafa Mijiyawa, minister of health, public hygiene and universal access to care, to discuss the opportunity to upgrade the physiotherapist entry level programme at the training school (ENAM) and to provide support to the Togolese Physiotherapists' Association
the deputy director of ENAM and the teachers of the physiotherapy department
Odah Kossi, Togolese Physiotherapists' Association president