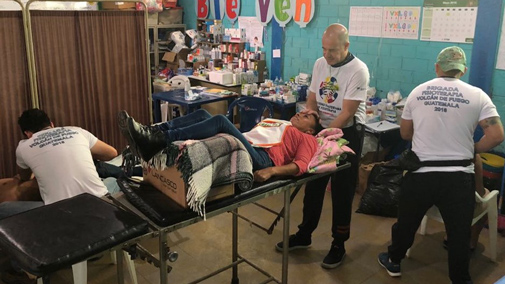 Daniel Wappenstein, President of WCPT member organisation Ecuadorian Society of Physiotherapy (SEF), said the initiative had been developed from previous teams' experiences of providing humanitarian support following the earthquake and avalanche in Colombia in 2016.  
Daniel said: "We will work with local colleagues to provide care and treatment to people with respiratory problems caused by volcanic ash, mainly babies, children and the elderly. The teams bring their experience to work with a lot of emotion, sensitivity, commitment and responsibility, to support the people of a country hit by a natural event that has left many repercussions."
Physiotherapist Daniel Camino said the commitment to help others was one of the main reasons the brigade had been created, and that the initiative was important to enable physiotherapy to continue growing and consolidating at a national and international level. He said: "Physiotherapists are professionals, providing help and support. We have to keep responding and adapting to the challenges we face."
The team, made up of three physical therapists from Ecuador and one from Colombia, is based on a model of humanitarian support, developed by SEF, which has produced 22 teams in Ecuador and one in Colombia. The model has also been used to provide humanitarian support in Chile and Peru.
This story first appeared on REDACCIÓN MÉDICA, credit Jonathan Veletanga