Binay Kandel has recently been appointed as the deputy chief physiotherapist in the ministry of health and population with the government of Nepal. This is the first time a physiotherapist has been appointed to a role at this level in Nepal. We contacted Binay to find out more about the role and his aspirations. He shares his experiences and insights below.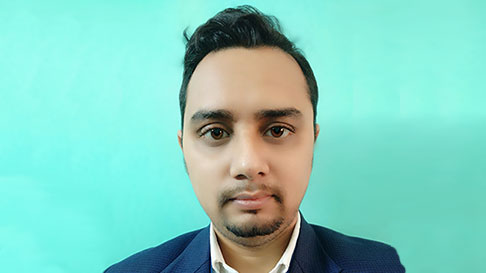 I am the physiotherapy unit chief at the national academy of medical sciences in Bir hospital, and have worked as a lecturer at KUSMS for five years and as a physiotherapist in a number of clinical settings, for example international non-government organisations, rehabilitation centres, and clinics. 
I hold a postgraduate qualification in physiotherapy in musculoskeletal and sports from the Rajiv Gandhi University of Health Sciences, India. 
I have a special interest in peri-operative physiotherapy management of musculoskeletal cases, hand therapy and research. I am always motivated towards homogenizing evidence based clinical practice through routine research. I have also published research papers in open-access, peer- reviewed national and international Pubmed indexed journals.
Why was this role created?
To initiate specialty based physiotherapy service provision at a tertiary centre within the government of Nepal
What are the key responsibilities of this role?
Clinic management:
outpatient physiotherapy department and referral from inpatient wards, including intensive care unit
policy making for quality physiotherapy service within the department
provide inputs to the nationwide programme
participate in programmes initiated by the government of Nepal
data recording and reporting to assist the health information management system.
Administrative: 
human resource management, conflict management, conduct meetings, to attend programmes as required
Academic programmes and research: 
supervise students during internship, take lead in administrative and technical aspect of academic programme initiated by the academy and execute research.
What are you most excited about in this new role?
I am excited to be recognised about the need of physiotherapy at this level by the government of Nepal. This opens the scope of specialty-based physiotherapy services in Nepal, and gives an opportunity to establish rehabilitation as a main stream of health care. 
What differences do you think you will be able to make in this role?
I think evidence based quality physiotherapy services should be available for the majority of the population. Global practice in physiotherapy and its application in local communities should be included during the development of national guidelines and manuals. I am looking forward to incorporating high quality research findings that can be implemented in Nepal and am optimistic about the possible avenues for physiotherapy higher education and trainings in Nepal. 
What are the key challenges for physiotherapists in Nepal?
A compulsion to go abroad to pursue higher education (Masters and Phd) for physiotherapy subjects
Lack of recognition of specialty-based physiotherapy practice among the medical board/ administrative staffs and general population
Lack of consensus on evidence based quality practice among physiotherapists in Nepal
Low pay scale, limited job possibility and peoplepower in rural and community level, lack of awareness among the local authorities about scope of physiotherapy practice
No provision of rehabilitation units, patient admission for rehabilitation in government led programmes
What support have you had from physiotherapy organisations in World Physiotherapy's Asia Western Pacific region?
I had indirectly got advantage of Nepal Physiotherapy Association membership, which is also a member of World Physiotherapy. Apart from that, I am connected to few international colleagues that have been fruitful in my academic career.
How could World Physiotherapy and physiotherapy organisations in the Asia Western Pacific region help support you in this role?
I am looking forward to developing support and activities with the Asia Western Pacific region in a number of ways:
liaison with the government of Nepal to establish rehabilitation and physiotherapy as an essential pillar of health care
implementation of evidence based physiotherapy services by developing continuous professional development (CPD) programmes and workshops for physiotherapists in Nepal
providing experts to guide and support physiotherapy education and training programmes in Nepal
providing opportunities for physiotherapists from low income countries/territories to take part in international physiotherapy events identifying and connecting with mentors.