VNPTA was founded in January 2019 after receiving approval from the Vietnamese government.
The workshop, which took place 18-20 February, was designed to kickstart the ADvAncing PhysioTherapy In ViEtnam (ADAPTIVE) project. The ADAPTIVE project will review the physical therapy education programmes in Vietnam to assist them to develop towards international standards, and to help VNPTA achieve its goal of becoming a WCPT member organisation.
WCPT also invited representatives from a number of member organisations in the region to attend the workshop to better understand the work WCPT is undertaking to develop the global profession.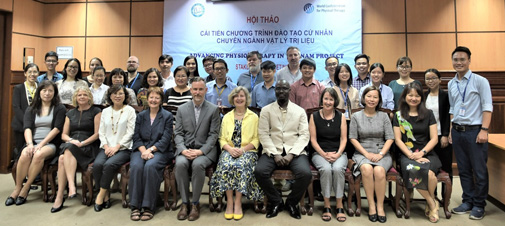 Jonathon Kruger, WCPT chief executive officer, said:
'This workshop demonstrates how WCPT is building capacity around the globe. It's great to be able to be part of making change happen in Vietnam and helping raise the profile and influence of physical therapy in the country.
'The involvement of our member organisations at this formative stage in the project has been invaluable. The Taiwan Physical Therapy Association, Japanese Physical Therapy Association, and Australian Physiotherapy Association – together with the AWP-WCPT – asked a range of questions about the processes and project management methodology. These insights into the information needs of our member organisations has made a significant contribution to the discussions and will impact on this and future WCPT projects.'
Participants in the workshop included:
Jonathon Kruger, WCPT Chief Executive Officer
Sidy Dieye, WCPT Head of Programmes and Development
Suh-Fang Jeng, AWP-WCPT Chair
Yi-Fen Shih, Taiwan Physical Therapy Association Secretary General
Tomonori Ito, Japan Physical Therapy Association
Jenny Aiken, Australian Physiotherapy Association Vice President
Liz Holey, consultant
Prue Morgan, consultant
Margot Skinner, consultant
During the workshop representatives also had an opportunity to visit the City Children's Hospital and the University Medical Center to learn more about physical therapy in Vietnam.